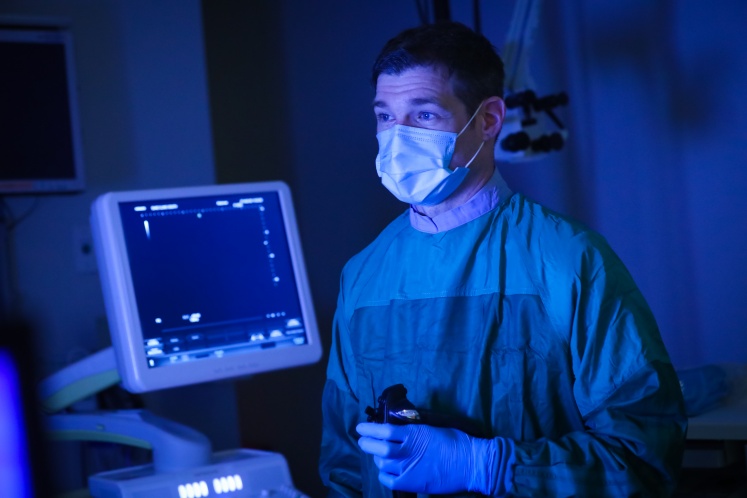 The Hepatopancreato-Biliary (HPB) Diseases Service offers outpatient consultation, inpatient care and specialized endoscopic evaluation and treatment by regionally and nationally recognized experts.   We take a multidisciplinary approach working in close collaboration with Duke surgery, radiology, oncology, integrated pain management and nutritional services for patients with these disorders including a weekly multidisciplinary conference to review complicated cases (see Duke Pancreas Program).  For patients requiring urgent care we offer same day procedures.  Located at both DUMC and DRAH our program provides easy access for patients.
Endoscopic retrograde cholangiopancreatography (ERCP) and endoscopic ultrasound (EUS) are particular areas of expertise within the HPB service, with physicians performing over 2,000 procedures each year.
We perform ERCP for all of the routine indications but also have expertise in choledochoscopy, lithotripsy, stent placement for complicated hilar disease, radiofrequency ablation for biliary tumors, tissue sampling and confocal laser endomicroscopy, ampullectomy, ERCP in post-surgical anatomy as well as a full range of endopancreatic therapies including stricture dilation and stenting.
Our program offers EUS for a broad array of indications.   Cancer diagnosis and staging is one of the more common indications and remains an important mainstay for EUS.  Expanding its application within oncology, we have also developed a strategy to offer EUS as part of a screening program for select patients at increased risk of pancreas cancer.  On the therapeutic side, EUS plays an important role in assessing and treating peri-pancreatic fluid collections including walled off pancreas necrosis and EUS guided cyst-gastrostomy has become an important therapeutic maneuver.   EUS can also be used in select situations in which Roux-en-Y gastric bypass patients need an ERCP.  EDGE (EUS directed transgastric ERCP) is now a standard option to consider for accessing the ampulla to perform ERCP.
Click here to learn about early diagnosis of pancreatic cysts, clinical trial access, and how Duke Pancreas Program's multidisciplinary approach can benefit patients.
Providers: Stanley Branch, MD (Program Director),   Rebecca Burbridge, MD,  Pedro Rosa Cortes, MD,  Erin Garris, PA-C, MMS,   Alyson McGhan Johnson, MD,  Paul Jowell, MBChB,  Darshan Kothari, MD,  Joshua P. Lee, MD,   Jorge Obando, MD,  Joshua Spaete, MD, Iris Vance, MD, Daniel Wild, MD