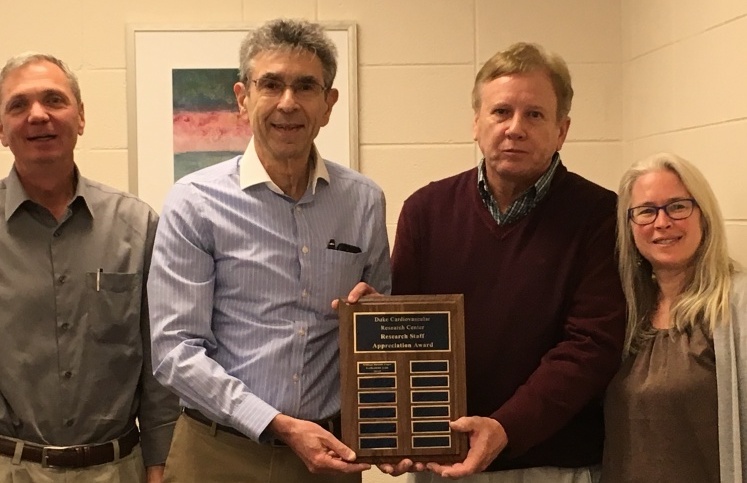 The award was created to shine a spotlight on the high caliber of staff in Duke Cardiovascular Research Center (CVRC) labs. The mission of the CVRC is to conduct fundamental research to advance our knowledge into the causes of cardiovascular disease and to develop the next generation of world-renowned physician-scientist thought leaders. This research would not be possible without the tireless effort of our unsung heroes on the research staff who we work together with to achieve our mission. 
To be eligible for a CVRC Research Staff Award, an individual must be employed by the Duke School of Medicine and meet all of the following criteria:
At least 5 years of continuous service in a research role in the CVRC.
Provide exemplary support in the conduct of basic or translational research within the CVRC.
Demonstrated technical expertise to support basic or translational research program(s) in a manner which strengthens the research mission of the CVRC.
Demonstrated record of excellent performance and good citizenship.
The inaugural Duke Cardiovascular Research Center Research Staff Appreciation Award was presented to William Darrell Capel. Capel, a Lab Research Analyst II, was nominated by his direct supervisor, Robert J. Lefkowitz, MD. Read more.
Additional staff selected as finalists for the award were Amy Dickson, in the Poss Lab; Bob Griffiths, in the Sparks lab; and Tim McCord, in the Kontos lab.